Views: 369
Last visit: 2023-06-03 20:02:13
The University President inspects the Educational Process in the Faculty of Arts
Tuesday 16 Nov. 2016 - 11:52:46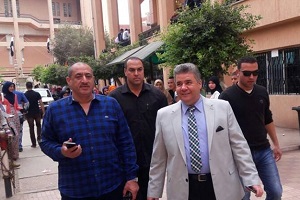 Prof.Dr. El-Sayed EL-kady, the university president inspects the educational process in the faculty of arts. He also inspects the computer laboratory in the faculty and he come to know the rolls in the lab.
The university president inspects the ICDL unit and meets some students to know their opinions about these ICDL courses in addition to filling a questionnaire to develop these courses.
The university president heaps praise on the regularity of the educational process urging the faculty deputy of community service and environment development to beautify the faculty for sake of students' service.
The university president pays sudden visits to the faculties of commerce and nursing to make sure that the educational process is up and running. He stresses that these sudden tours will not stop to observe the negative points that may hinder the educational process.