Views: 334
Last visit: 2023-06-08 20:54:33
The university's son is awarded by obtaining the highest medal of scouting in the Arab-Region
Tuesday 17 Nov. 2016 - 12:51:05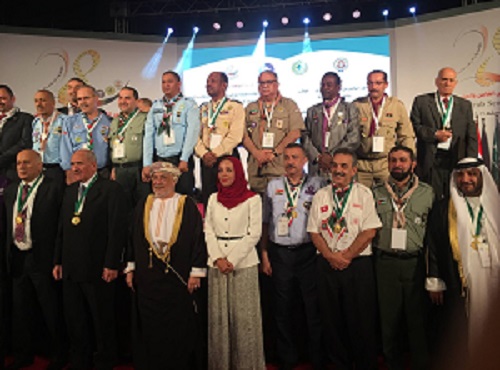 Prof.Dr. Khalid Hasan Esawi, the general coordinator of student activities and initiatives has been awarded by obtaining the medal of Arab scout: the biggest award in scouting realm. Mr. Muhammad Mustafa has won the membership of the Arab Scouting committee in addition to electing him as vice president of this committee. Egypt also will organize the Arab Scouting region in 2019.
These events take place in the Benha University's delegation participation in the Arab Scouting conference (28) in Oman. This conference was held in the presence of prof.Dr. Madiha EL-Shibany, the Omani minister of education, prof.Dr. Yehia Ibn Mahfouz EL-Mandary, the head of the Omani state council, general/ Gabriel EL-Rakoob, the head of the Palestinian supreme council of youth, the vice deputy of the Jordanian prime minister and the Jordanian minister of education.
The Arab and foreign delegations and the Arab committee and international committee of Scouting have been honored in this ceremony. Prof.Dr. El-Sayed EL-kady, the university president congratulates Prof.Dr. Khalid Hasan Esawi on this achievement urging him to maintain such prestigious position of scouting in the university.