Views: 5
Last visit:
During his Visit in Zagazig University, the University President discusses A Master Thesis in the Faculty of engineering
Tuesday 3 Jan. 2017 - 01:53:11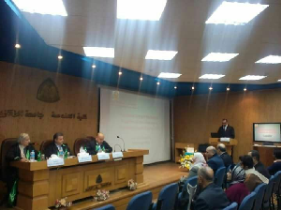 Prof.Dr. Khalid Abd El-Barry, Zagazig University president hosts prof.Dr. El-Sayed-El-Kady, Benha university president and the professor of production engineering and mechanical design in Zagazig university as they discuss higher education- related issues that help to improve the educational process and increase the cooperation between both universities. This meeting is in the frame of prof.Dr. El-Sayed-El-Kady, Benha university president visit to Zagazig University to discuss a master thesis in the faculty of engineering.
Prof.Dr. El-Sayed-El-Kady says the thesis presented from the MA candidate/ Paula Georgry Ghaly Iskander is one of the applied researches in the field of design and production engineering. The discussion committee includes; prof.Dr. Muhammad Abd EL-Hamid Hasan, prof.Dr. Emil Gad Halim and prof.Dr. Ayman Mansur, the professors of mechanical design at the faculty of engineering in Zagazig University and prof.Dr. Nahed El-Mahalawy, the professor of the department of the mechanical design engineering in Ein-Shams University.