Views: 9
Last visit:
A Cooperation Protocol between Benha University and Solara-CIil Academy to train the Youth in the Fields of Renewable Energy and Electricity
Thursday 4 Jan. 2017 - 10:43:30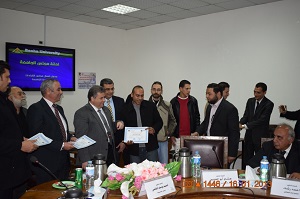 The leaders council of Benha University, under the presidency of prof.Dr. El-Sayed EL-Kady, the university president, hands the certificates to the students who passed the training program in the fields of renewable energy and electricity, which was organized by Solara-cil Academy in the cooperation with the center of geometrical consultations at the faculty of engineering/Shubra. The university president stresses that the university is keen on training the graduates to link education to the labor-market.