Views: 18
Last visit:
Seeking out Solutions of the Education Problems in Benha University Talk Week
Tuesday 11 Jan. 2017 - 12:38:18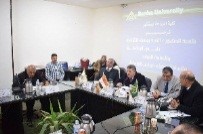 The university leader council discussed, in its weekly session on Tuesday noon under the presidency of the prof.Dr. El-Sayed EL-Kady, the university president, the preparations that supposed to be ready to hold the talk week which will be held from 25-2-2017 to 28-2-2017. The meeting was held in the presence of prof.Dr. Gamal Ismail, the vice president of the community service and environment development, prof.Dr. Hesham Abu El-Enin, the vice president of post-graduate studies and scientific research, the faculties' deans and the university president chancellors. This talk week aims at suggesting a comprehensive vision to find solutions of higher education and scientific research in Egypt.