Views: 13
Last visit:
The university president discusses the Pillars of developing the university Education
Thursday 29 Jan. 2017 - 11:11:20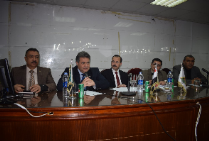 Prof.Dr. El-Sayed EL-Kady, the university president meets with several faculties' members and teaching assistants during a workshop. This workshop was moderated by prof.Dr. EL-Sayed Fouda, the dean of the faculty of law, prof.Dr. Mahmoud Mansur, the faculty of law deputy of community service and environment development and prof.Dr. Khalid Eswai, the coordinator of the student activities. They discussed many topics like, the importance of supporting the scientific and applied research to solve the society problems and other- higher education related issues.