Views: 17
Last visit:
Congratulations: Benha University maintains the Sixth Place among the Best Five Egyptian Universities in Webometrics Ranking for January 2017
Monday 2 Feb. 2017 - 01:43:35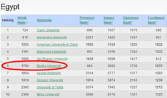 Few hours ago, the result of the Webometrics international ranking is revealed showing that Benha university portal is among the best five Egyptian universities. The university also maintains the fifth place in its race with 23 governmental universities and it maintains the sixth place in its race with 61 governmental and private universities. Congratulations to everybody who participate in such prestigious accomplishment!