Views: 9
Last visit:
Benha University organizes a Workshop to Discuss the Student Bylaw
Monday 7 Feb. 2017 - 02:13:10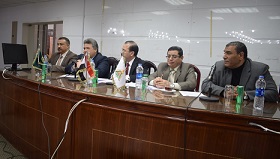 Benha University organizes a workshop to discuss the student bylaw and presents its recommendations in the first forum that will be held from 22-2-2017 to 25-2-2017 under the auspices of prof.Dr. Ashraf El-Shihy, the minister of higher education and scientific research. The participants discuss the possibility to change a number of provisions of the student bylaw and its impact on the educational process. The workshop is attended by prof.Dr. Ibrahim Ragah, the head of the projects development unit in the university and the deputy of community service and environment development in the faculty of medicine, prof.Dr. Khalid Esawi, the university's president's chancellor of the stduents activities, prof.Dr. Moshbeh El-Kehily, the general manager of the youth care department, the representatives of the student unions in the university's faculties, the members of the youth parliament in Qulubia governorate and number of students from the different faculties in the university.