Views: 12
Last visit:
"Medicine is a Humane Job and we need More Roles Models like Amr" says the University President
Tuesday 9 Feb. 2017 - 11:10:27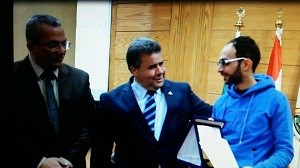 In a humane gesture, Prof.Dr. Prof.Dr. EL-Sayed EL-Kady, the university president honors the physician/ Amr Mady who sets an example of bestowal as he kindly treats a patient in Benha university hospital. After his recovery, he also takes care of a number of patients in a way that arouses the surprise of the other patients and their families. The university president says this young physician is a role model to be followed and he gives him a certificate of appreciation the armor of the university in the presence of prof.Dr. Mahmoud abd El-Sabour, the dean of the faculty of medicine. This event takes place in the beginning of the weekly meeting of leaders councils on Wednesday.