Views: 10
Last visit:
Benha university's awards in the student's families festival in Suez Canal
Wednesday 12 Feb. 2017 - 01:43:25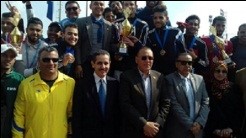 The students of Benha University manage to win three medals in the week of the student's families of the Egyptian universities that is held in the Sue canal university from 6-2-2017 to 10-2-2017. The student/ Ahmed Abd el-Azim from the faculty of applied arts obtains the gold medal in the religious recital contest, the student /Zeniab from the faculty of medicine obtains the silver medal in the Holy Quran contest, the football team obtains the second place by winning the silver medal and the university obtains the fourth place in the information league and the solo singing. Prof.Dr. El-Sayed El-Kady, the university president attends the inauguration ceremony in the covered hall of the Suez Canal authority in the presence of prof.Dr. Ashraf El-Shihy, the minister of the higher education and scientific research, general/ Yassin Taher, the governor of Ismailia. Some students of Benha University visit Ismailia tunnel, which is considered one of the big projects, and they listen to the explanation of colonel/ Kamel El-Wazier, the head of the geometrical authority and the lieutenant general/ Mohab mamiesh, the head of Suez Canal authority.