Views: 9
Last visit:
The university president makes sure that the education is up and running and listens to the students' complaints
Thursday 13 Feb. 2017 - 10:57:13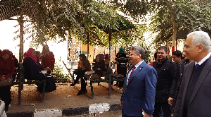 In the second day of the second semester, Prof.Dr. El-Sayed El-Kady, the university president is keen on inspecting several faculties to make sure that the educational process is up and running in addition to listening to the students' complaints. He inspects the faculty of arts and the faculty of commerce and makes sure that the employees and the faculties' members' roles are efficiently-performed. He also makes sure that the university's faculties provide the best services to the students and the maintenance work is nicely-done.