Views: 10
Last visit:
In the Presence of the Minister of Higher Education and the Minister of education, Benha University organizes the Forum of Developing the Education in Egypt
Tuesday 23 Feb. 2017 - 12:53:21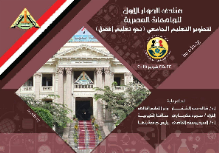 Benha University organizes, on Thursday at 10 a.m., the first forum of developing the education from 22-2-2017 to 25-2-2017. The forum is attended by the prof.Dr. Khalid Abd El-Gafer, the minister of higher education, prof.Dr. Tarek Shawky, the minister of education and general. Mahmoud Ashmawy, the Qulubia governor.