Views: 5
Last visit:
A Forum to be held at the faculty of law to fight corruption
Wednesday 1 Mar. 2017 - 01:29:27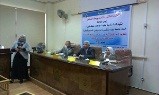 Under the auspices of prof.Dr. El-Sayed El-kady, the university president, the faculty of law organizes, on wendesday morning, forum bout fighting corruption. The forum is bout an open discussion among the attendants on the topic of corruption, fighting it, the ways to detect it as said by prof.Dr. El-Sayed Fouda, the faculty dean.