Views: 5
Last visit:
The activities of the conference No.23 of the students exchange among the Arab universities
Wednesday 22 Mar. 2017 - 01:14:02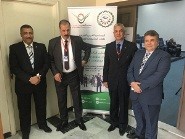 In the presence of prof.Dr. Sultan Abu Oraby, the general secretary of the Arab universities union and prof.Dr. Ahmed EL-Kissa, the head of the Arab council of Arab universities training, a delegation of Benha university under the presidency of prof.Dr. El-Sayed EL-Kady participates in the conference of students exchange from 19-3-2017 to 21-3-2017.