Views: 10
Last visit:
The first center of the environment studies in Benha University
Wednesday 9 May 2017 - 01:49:32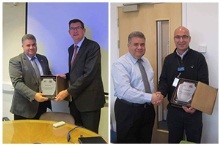 In the first day of his visit to Great Britain, Prof.Dr. El-Sayed EL-Kady, the university president holds several meetings from 9 a.m. to 8 p.m. with the official in Surrey University. In one of these meetings, El-kady discusses with the British side the possibility to set up a specialized center in the environment studies, creating a program of the scientific inventions and its marketing and singing many cooperation protocols between the two universities in the fields of the engineering, economics, entrepreneurship and veterinary medicine. El-kady stresses on the important to exchange students and the faculties' members and the meetings were fruitful according to what prof.Dr. Fines Mory, the vice president of Surrey University says.