Views: 13
Last visit:
EL-Kady visits the faculty of engineering to inspect the student activities and the community service plans
Tuesday 13 Aug. 2017 - 01:49:21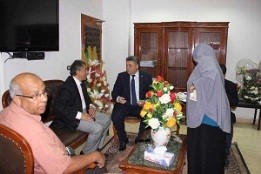 Prof.Dr. El-Sayed EL-Kady, the university president visits the faculty of engineering as he meets prof.Dr. Ragab Megahed, the faculty's dean, prof.Dr. Atia Gomaa, the faculty's deputy of educational and student affairs and prof.Dr. Karim Rashwan, the head of the geometrical counseling center. He discusses the development plans at the faculty and how to carry them out according the dean's vision.