Views: 3
Last visit:
El-kady host EL-Terify in his office
Tuesday 17 Aug. 2017 - 02:31:40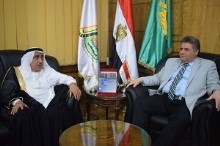 Prof.Dr. El-Sayed EL-Kady, the university president hosts, on Wednesday, prof.Dr. Muhammad EL-Terify, the head of the Islamic council for disability and rehabilitation to discuss the cooperation ways between the University and the council in the different aspects. EL-Terify congratulates EL-Kady on the success of the conference in addition to thanking the Benha university president for providing everything possible to hold the conference in cooperation with the council.