Views: 23
Last visit:
The National investment bank visit Benha university land in EL-Obour
Tuesday 24 Sep. 2017 - 01:08:44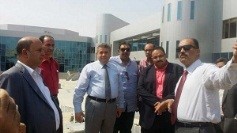 A group of the national investment bank visit Benha university buildings in EL-Obour to inspect the faculty of medicine, the faculty of dentistry and the faculty of physiotherapy. The group expresses his happiness of the progress achieved in the buildings. The group was accompanied by Prof.Dr. El-Sayed EL-Kady, the university president, prof.Dr. Karim Rashwan, the head of the geometrical counseling in the faculty of engineering and prof.Dr. Muhammad Saied, the geometrical chancellor of the university president.