Views: 10
Last visit:
The vice president of Benha University discusses the university's accomplishments in front of the faculties' secretaries and the general managers
Tuesday 31 Oct. 2017 - 02:00:54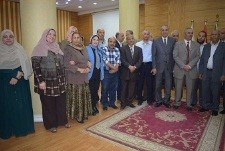 Prof.Dr. Gamal Ismail, the vice president of community service and environment development holds a meeting with the secretaries-assistants of the university Mr. Wahid Khalawy, Madam. Faten Kharboosh and Madam. Samia Abd EL-Hameed, the faculties' secretaries in the university and the general managers and he discusses the accomplishments of the university last year included Benha university's team win of the first place in the international robot competition in Malaysia.