Views: 6
Last visit:
EL-Kady honors two workers in Benha University
Tuesday 8 Nov. 2017 - 02:04:06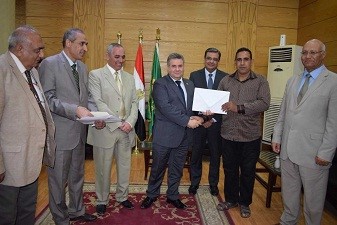 Prof.Dr. EL-Sayed EL-Kady, the university president, during his presidency of the Benha University's leaders council, honors two workers for their honesty. These workers are Ahmed Muhammad Saied and Ahmed Megahed Abdel Moneim from the university hostels. The university president awards them by giving them certificates of appreciations and 1000 L.E. for each one of them.