Views: 21
Last visit:
33,000 patients are in Benha university hospitals
Thursday 8 Nov. 2017 - 11:12:03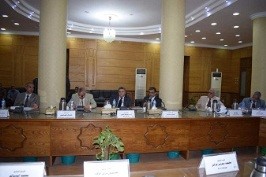 Benha University's leaders council discussed, in its meeting yesterday under the presidency of Prof.Dr. EL-Sayed EL-Kady and in the presence of prof.Dr. Gamal Ismail, the vice president of community service and environment development, prof.Dr. Hesham Abu El-Enin, the vice president of post-graduate studies, the faculties' deans and several chancellors, the report of prof.Dr. Yosry EL-Saied, the manager of the university hospitals, which indicate that there are 33,745 patients in October at the different departments in the university hospitals.