Views: 8
Last visit:
"Excellent hostels and fewer complaints: is the motto of the university president's visit to the university hostels
Monday 14 Nov. 2017 - 02:25:15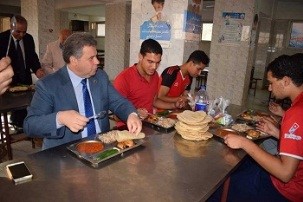 Despite the excellent services that students enjoy in the university hostels, there are some problems that most of the students complain of. These problems are about the internet connection, the bad equipment of the computer labs, therefore the students resort to other institutes to resume their researches in addition to the general complaints like the increase of fees and closing the hostels doors and this didn't match with most of the faculties. Benha University has four hostels that accommodate 2200 students.