Views: 5
Last visit:
Strategic planning forum in the faculty of veterinary medicine
Sunday 15 Nov. 2017 - 10:28:31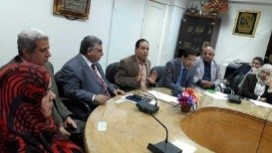 The faculty of veterinary medicine and central unit of strategic planning organize a forum to increase the awareness of the strategic planning. Prof.Dr. Muhammad Abu Salim, the dean of the faculty asserts that development of all sectors in the faculty concurs with the principles of faculty's endeavor to carry out its strategic planning.