Views: 9
Last visit:
Benha university president witnesses a workshop of medical computerization
Monday 22 Nov. 2017 - 10:49:00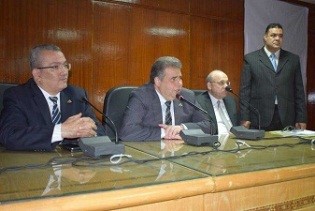 The faculty of medicine holds, today, a workshop for the nursing staff in the university hospitals. This workshop is attended by prof.Dr. EL-Sayed EL-kady, the university president, prof.Dr. Mahmoud Abd El-Sabour, the faculty's dean, prof.Dr. Yosry EL-Saied, the general manager of the university hospital, the faculties' deputies and the faculties' members and the workshop is about medical computerization in cooperation with "Misr EL-Kheir" organization.