Views: 479
Last visit: 2023-11-28 16:17:49
Qalyoubia Governor and Benha University President open Drive-through Coronavirus Testing Center
Sunday 1 Jul. 2020 - 04:48:21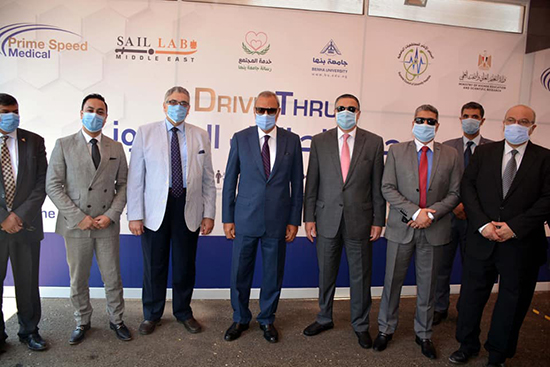 General / Abdel Hamid El Haggan, Qalyoubia Governor and Prof. Dr. Gamal El Saeed, Benha University President have opened today drive-through coronavirus testing center in the presence of Prof. Dr. Randa Mustafa, the University Vice-president for Community Service and Environment Development Affairs; Prof. Dr. Hala Helmy, the Dean of the Faculty of Computers and Artificial Intelligence; Prof. Dr. Mustafa El Kady, the Dean of the Faculty of Medicine; Dr. Mohamed Saeed, the University Engineering Consultant; Dr. Ibrahim Rageh, the Manager of the University Central Unit for Disaster and Crisis Management; Mrs. Samia Abdelhameid, the University Secretary General; Dr. Mohamed Goda, the Vice-dean for the faculty of Medicine; and Mr. Refaat Than, the University Assistant Secretary General.
El Haggan has praised the vital role of Benha University by providing all scientific and human capabilities to limit the spread of Corona Virus "Covid-19" with coordination of the concerned authorities.
The University president has said the service of drive-through coronavirus testing has been provided to the citizens inside their cars to avoid laboratories overcrowding and infection.
Photo Album