Views: 336
Last visit: 2023-05-31 19:05:32
Qalyoubia Governor and BU President open and lay the Foundation Stone of a New Projects
Wednesday 1 Sep. 2020 - 12:21:56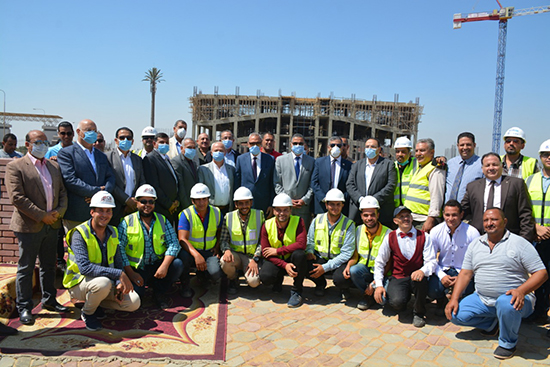 Major General Abdel Hamid El Hagan, Qalyoubia Governor and Prof. Dr. Gamal El Saeed, Benha University President has opened today a number of new projects and facilities. They also have inspected and laid the foundation stone of other projects, in addition to the construction of the new specialized hospital within BU participation in the Governorate's national day and its celebration for the 15th anniversary of its establishment.
In this regard, El Hagan said that the relationship between the Governorate and the University is close, and the University is its home of expertise, pointing out that the Governorate is ready to provide all support to BU in order to present its scientific and service message to the people of Qalyoubia Governorate.
He also praised the size of the projects that are being built on the BU's land to serve the people of the Governorate, confirming that the University has expertise and a strong infrastructure that would develop the educational, research and community service process.
In the same context, El Saeed expressed for his happiness and the family of BU in participating the people of Qalyoubia in their celebrations of the Governorate's national day.
He also congratulated Qalyoubia Governor, and the people of the Governorate on the occasion of celebrating the 152nd National Day, confirming that BU with all its capabilities, scholars, experts and researchers, is at the service of Qalyoubia Governorate.
Source: Sector of University President