Views: 463
Last visit: 2023-11-28 22:33:17
BU looks for Cooperation with AUC
Sunday 12 Nov. 2020 - 01:40:28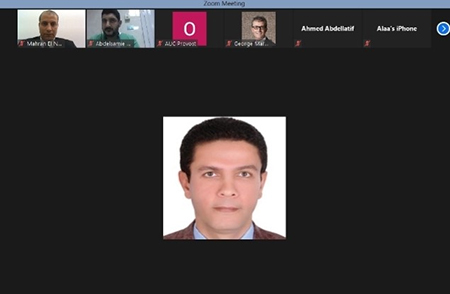 In the frame of Benha University's "BU" policy to open up to local, regional and international universities for maximizing the partnership opportunities between them, BU International Relations Office has organized a webinar with the American University in Cairo "AUC" under the auspices of Prof. Gamal El Saeed - BU President.
The participants in the webinar from BU are: Prof. Nasser El Gizawy, BU Vice-president for Postgraduate Studies and Researches ' Affairs; Prof. Hala Zayed, the Dean of the Faculty of Computers and Artificial Intelligence; Prof. Mahran El Naggar, the Director of the International Relations Office; and Prof. Abdel Samiee Halawa, from the Faculty of Medicine.
The participants in the webinar from AUC are: Prof Ehab Abdel Rahaman, the AUC Vice-president; Prof. Alaa Idrees, the Deputy Assistant for Scientific Research; Prof. George Marqes, the Dean of Students' Affairs; and Prof. Ahmed Abdel Latif.
El Gizawy said that the webinar discussed the ways of cooperation between BU and AUC at the level of academic programs, scientific research, innovation and creativity, in order to maximize the use of the financial and human potentials of the both universities.
In the same context, AUC invited some professors with students from BU to visit it to identify the opportunities available in it, the nature of study and the various fields of scientific research.
Source: Sector of University President