Views: 391
Last visit: 2023-12-03 07:06:46
Benha University gets the Second Place at Universities Weightlifting Championship "El Refaee 48"
Sunday 20 Dec. 2020 - 12:16:15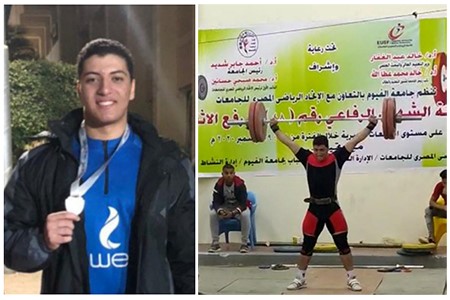 Mahmoud Essam Ahmed, the student at Physical Education Faculty has got the Second place at Universities weightlifting championship "El Refaee 48" which was organized at Fayoum University and by cooperation with Egyptian Sports Federation for Universities.
. Benha University students' have participated at that competition under auspices of Dr. Gamal El Saeed, Benha University President, Prof.Tamer Samir, Benha University Vice-president for Education and Students' Affairs and Dr. Khalid Esawy, the General Coordinator for Students' Affairs. In his word, Dr. Musbah Kohily, the General Manager of Youth Welfare Sector said that the competition was held in the period from 12 to 19 of December 2020 and Benha University got the Second place and the bronze medal and he congratulated the champion and hoped for him best wishes and more champions.
Source: Sector of University President