Views: 411
Last visit: 2023-12-06 06:34:57
Qalyoubia Governor discusses granting the Egyptian fellowship between Benha University and the Directorate of Health
Wednesday 9 Jul. 2021 - 11:12:56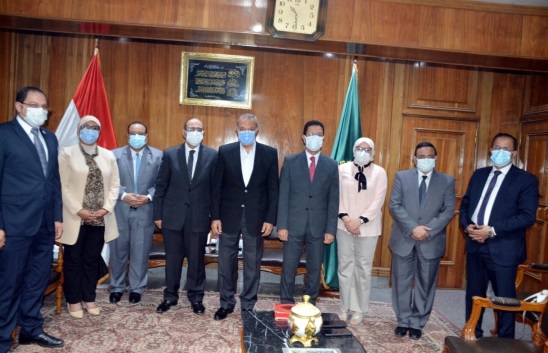 Major General Abdel Hamid El Hagan, Qalyoubia Governor has held a meeting with Prof. Dr. Nasser El Gizawy, the acting president of Benha University to discuss signing a cooperation protocol between Benha University and Directorate of Health to grant physicians the Egyptian Fellowship. The meeting has been held in presence of Dr.Hossam Hosny, the Secretary General of the Medical Fellowship Committee, Dr.Khalid Abdel Ghany, the Undersecretary of the Ministry of Health in Qalyubia and the delegation of the Egyptian Fellowship.
El-Hagan said that the health sector in the governorate is currently witnessing a distinct shift in the submitted health service to citizens, pointing out that Qalyubia had a large share in the national project to develop 31 hospitals at the level of the Republic where five central hospitals at Qalyoubia governorate have been developed including the medical buildings and equipment to serve citizens.
For his part, Dr. Nasser El-Gizawy confirmed that Benha University possesses the financial and human capabilities in the medical sector and that allows Benha University to support the Egyptian fellowship project in all medical specialties with a high degree of efficiency and excellence. He also pointed out that the Faculty of Medicine includes more than 1,500 faculty members and assistants staff at various departments and he mentioned that Benha University Hospitals are now characterized by a very appropriate infrastructure that enjoys a high degree of satisfaction and acceptance of those hesitating to receive medical service.
Source: Sector of University President