Views: 240
Last visit: 2023-06-05 14:52:20
Benha University participates in the Training Program of the National Anti-Corruption Academy
Wednesday 6 Jan. 2022 - 12:38:47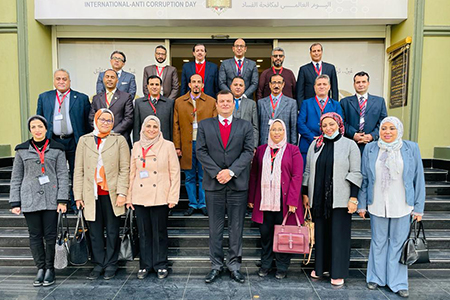 The Administrative Control Authority has held a training program at the headquarters of the National Anti-Corruption Academy in the field of anti-corruption and governance in the period from 4-512022. For his part, Prof.Dr.Gamal Sosa, Benha University President mentioned that corruption is the biggest obstacle toward progress, and the main undermining of development processes all over the world. Therefore, it was necessary to raise awareness of its danger, as it is the scourge that must be combated, and the disease that must be treated to get rid of its negative effects. The training program was held in presence of;
• Dr.Samy Mohamed Ahmed Ghonemy, the Faculty of Commerce dean.
• Dr.Mohamed Abd El Fattah Mohamed, the Faculty deputy of Computer and Artificial Intelligence for Education and Students Affairs – The General Director of Electronic Exams Center.
• Dr.Gamal Soliman Attia Soliman , the Faculty of Education Deputy for Post graduate Studies and Scientific Research.
• Dr.Taha Hassan Mokhtar , the Head of Agriculture Engineering at faculty of Agriculture.
• Dr.Mahran Mokhtar Mohamed, Director of the International Relations Office at Benha University.
• Dr.Mohamed Ahmed Mohamed Basyouny , Director of the Laboratories and Scientific Equipment Unit at Benha University.
• Dr.Shady Yehia El Mashad , Professor of Computer System Engineering – the Deputy Chief Information Officer.
• Dr.Ahmed Mohamed Naguib , Professor at Faculty of Physical Education- the Director of Faculty and Leadership Development Center (FLDC).
• Dr.Amr Abd El Hamid El Awamry , Executive Director of Biotechnology Incubator at Benha University.
• Dr.Mustafa El Sayed Abd El Sallam , Assistant professor at Faculty of Computer and Artificial Intelligence.
Source: Sector of University President