Views: 845
Last visit: 2023-09-28 23:22:32
Benha University President hosts the Japanese Ambassador in Cairo for signing cooperation protocols
Sunday 29 May 2022 - 12:43:10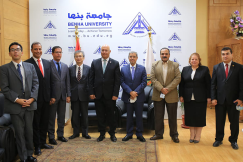 Dr.Gamal Sosa, Benha University President hosts Oka Hiroshi, Ambassador of Japan in Cairo and Tsukazaki Daisuke, the Cultural Counselor at the Embassy of Japan in Cairo to discuss ways to enhance cooperation between the two sides in the fields of education, scientific research, and student and faculty members' exchange.
The meeting was held in presence of Eng. Ibrahim El-Arabi, the President of the General Federation of Egyptian Chambers of Commerce and the Chairman of the Egyptian-Japanese Business Council, Prof.Dr. Nasser El Gizaway, Benha University Vice-president for Post Graduate Studies and Scientific Research, Dr. Tamer Samir, Vice President for Education and Student Affairs and deans of the following faculties: Science, Applied Arts , Agriculture , Medicine , Nursing , Engineering and Computer and Artificial Intelligence , Dr.Mahran El Nagar , Director of the International Relations Office in the university and Dr. Ayman Samir , the Egyptian- Japanese Relations Coordinator in the University and Ms. Rania Motaaz, the assistant secretary-general of community service and environment development.
For his part, Prof. Gamal Sosa stressed the Benha University is interested in having joint cooperation with Japan in the field of higher education and scientific research heaping praise on the the distinguished level of educational and scientific relations between Egyptian and Japanese universities. He also indicates that the Japanese technology is beneficial in many programs that serve the industry and labor market needs.
On the other hand, The Japanese ambassador is happy with this meeting and the constructive cooperation with Benha University heaping praise on the development of the Egyptian higher education system and Egyptian Universities. In the meeting, there is a possibility to sign a memorandum of understanding between the Japanese Embassy and Benha University so as to organize a Japanese cultural day in the university in which the experience of Japanese universities' graduates and the students or faculties' members exchange can be discussed.
The meeting also discusses the possibility of supporting JICA institution for the establishment of the new University hospital and having cooperation in space sciences and research projects with the Japanese side.
The Japanese ambassador also pays a visit to the Japanese department in the faculty of arts to attend the Japanese culture-inspired performances, his companions, and the audience. These performances have been held under the auspices of Dr. Abeer Al Rabat, the Faculty of Arts dean, and Dr. Muhammad Abu Arab, The Faculty vice dean for education and student affairs.
Source: Sector of University President