Views: 9
Last visit:
"Developing the resources and renewing the accreditation is our priority" says the dean of the faculty of veterinary medicine
Sunday 19 Nov. 2017 - 01:00:30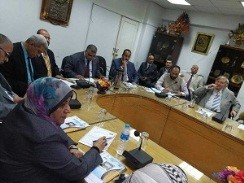 Prof.Dr. Muhammad Abu Salim, the dean of the faculty of the veterinary medicine stresses that the faculty has to confront challenges and enhance the performance in all the departments of the faculty. He says that the faculty is on its way to turn into an electronic faculty and he gives the departments a chance to achieve such an aim. The faculty's dean indicates that the faculty seeks to renew the accreditation once again.